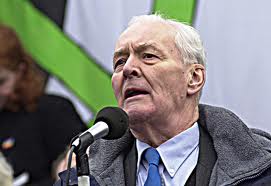 If people lose the power to sack their Government one of several things happens. First, people may just slope off. Apathy could destroy democracy. When the turnout drops below 50 per cent, we are in danger… The second thing that people can do is to riot. Riot is an old-fashioned method for drawing the attention of the Government to what is wrong. It is difficult for an elected person to admit it, but the riot at Strangeways produced some prison reforms. Riot has historically played a much larger part in British politics than we are ever allowed to know. Thirdly, nationalism can arise. Instead of blaming the Treaty of Rome, people say, 'It is those Germans' or 'It is the French'. Nationalism is built out of frustration that people feel when they cannot get their way through the ballot box. With nationalism comes repression.
I hope that it is not pessimistic – in my view it is not – to say that democracy hangs by a thread in every country of the world. Unless we can offer people a peaceful route to the resolution of injustices through the ballot box they will not listen to a House that has blocked off that route. There are many alternatives open to us. One Hon. Member said that he was young and had not fought in the war. He looked at a new Europe. But there have been five Europes this century.
There was one run by the King, the Kaiser and the Tsar – they were all cousins so that was very comfortable. They were all Queen Victoria's grandsons. And there was no nonsense about human rights when Queen Victoria's grandsons repressed people. Then there was the Russian revolution. Then there was the inter-war period. Then there was the Anglo-Soviet alliance. Then there was the cold war. Now we have a Boris Yeltsin who has joined the Monday Club. There have been so many Europes. This is not the only Europe on offer. I understand that my Hon. Friend the Member for Sunderland, South (Mr Mulliri) is a democratic federalist, as is my Hon.
Friend the Member for Derbyshire, North-East (Mr Barnes). They want an American-type constitution for Europe. It could be that our laws would hang on which way the Albanian members voted. I could not complain about that because that is democracy. However, it is unworkable. It is like trying to get an elephant to dance through a minefield. But it would be democratic.