فایل صوتی ندارد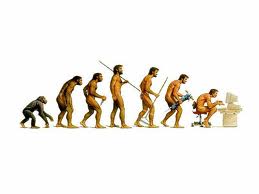 For centuries, people have found fossils-the remains of organisms that once lived on the Earth. But it has only been in the past century that scientists have been able to study fossils systematically, by comparing findings from different locations and from different layers of rock. Today, scientists have determined the approximate sequence in which life forms have appeared, evolved, and disappeared here on our planet. The age of the earth has been estimated at about 4.5 billion years, based on a technique called radiometric dating. This technique is based on the fact that certain radioactive elements slowly decay into other elements. By measuring the ratios of the different kinds of elements in rocks, scientists can estimate the age of those rocks. According to these tests, the earth (and moon) are about 4.5 billion years old. Some forms of life emerged very early in the history of the earth. Fossils of some organisms similar to blue-green algae have been dated as being more than three billion years old. For billions of years, however, the earth had only very simple, single-celled forms of life.
During this period, there were not yet any complex organisms made up of many cells. About 570 million years ago, there was a sudden expansion and diversification of multi-cellular organisms. During the next 325 million years, many varieties of plants and animals evolved. Most life forms existed in the seas, and many kinds of fish emerged during this time. But some animals also began to live on land, and the first reptiles and amphibians appeared. Large forests of fern-like trees covered much of the land. About 245 million years ago, reptiles began to proliferate. Huge dinosaurs roamed the earth. This age of dinosaurs ended about 65 million years ago, and many scientists believe that the dinosaurs were eliminated when a comet struck the earth, creating a huge cloud of dust that blocked sunlight.
Some reptiles did survive, and so did the ancestors of today's birds and mammals. During the past 65 million years, many new varieties of birds and mammals have evolved. Some of these animals were very large, but are now extinct. Within the past two million years, several "ice ages" have occurred. Large areas of the earth were periodically covered by thick sheets of ice. In between these ice ages, warmer periods prevailed. During these recent times, humans gradually evolved. The earth is indeed very old, and people have experienced this planet for only a short time. But we have begun to learn many interesting things about the history of life on earth.