فایل صوتی ندارد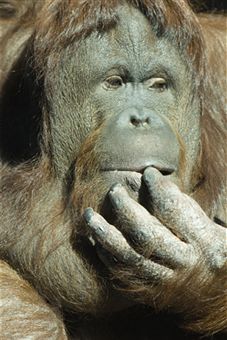 If you have ever visited a zoo, you have probably noticed that people seem to be fascinated by the great apes. This fascination is probably due to the similarity that people notice between themselves and these intelligent animals. In fact, humans share more similarities with the great apes than with any other living creatures.
The various species of great apes (including people) belong to the Primate order, along with lesser apes, monkeys, lemurs, and other small primates. The great apes possess several important features in common. For example, they all have well-developed eyes, and their brains can process complex visual information. In contrast, the sense of smell is not so well developed among apes. The great apes do not have tails, but apes do have an opposable thumb, which allows them to grasp objects easily.
Great apes are also able to walk upright, at least for short distances. They tend to be partly arboreal, or tree-dwelling, and partly terrestrial, or ground-dwelling. Great apes usually have only one offspring at a time, and these offspring require a long period of intense parental care before adulthood is reached. Finally, the great apes are capable of more advanced reasoning and learning than any other animals.
In this article, we will discuss four different kinds of great apes: orangutans, gorillas, chimpanzees, and bonobos. Most zoologists would also include humans as a fifth kind of great ape; in fact, chimpanzees and bonobos have greater genetic similarity to humans than to orangutans and gorillas! Orangutans have orange-brown fur, and live in the jungles of Indonesia. Male orangutans, which weigh up to 90 kilograms, are much larger than females, which weigh up to 45 kilograms. Orangutans like to eat fruit, and they tend to be solitary, living alone or in very small groups. Orangutans are rather distantly related to the other great apes.
Gorillas, which live in the jungles of equatorial Africa, are the largest and strongest of the great apes. Male gorillas can weigh over 250 kilograms, and females over 100 kilograms. Gorillas generally eat leaves and small plants. They live in large social groups consisting of a dominant male, several adult females and juveniles, and sometimes a subordinate male. Although gorillas can make fierce, threatening displays, they are generally much less violent than chimpanzees. Chimpanzees also live in the equatorial regions of Africa.
These great apes tend to be somewhat smaller in size than humans, but chimpanzees are very strong. The diet of chimpanzees mainly includes fruit and other vegetation, but they also eat insects and even small mammals. Unlike gorillas, chimpanzees usually live in large social groups, often containing dozens of individuals.
Chimpanzee sexual behavior tends to be rather promiscuous. Relations between different groups of chimpanzees tend to be violent, with deadly fighting over territory. Bonobos are closely related to chimpanzees, and for many years the bonobo was considered to be simply a variety of chimpanzee. However, bonobos are different from chimpanzees in several ways. First, bonobos tend to be less violent, with only rare aggressive encounters between groups. Second, female bonobos form strong alliances with each other, and as a result they are more powerful than male bonobos.
Finally, bonobos are highly promiscuous in their sexual behavior, with sex apparently being used as a means of establishing friendships. The diversity of the behavior and social structures of the great apes is truly remarkable. It is very interesting to learn about these animals, which in many ways remind us of ourselves.