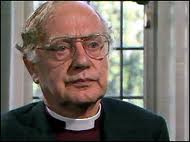 Man without God finds it difficult to achieve this revolution inside himself. But talk of peace and reconciliation is just fanciful and theoretical unless we are prepared to undergo such a revolution. Many of the reports I have heard about the troops engaged in this war refer to moments when soldiers have been brought face to face with what is fundamental in life and have found new sources of strength and compassion even in the midst of conflict. Ironically, it has sometimes been those spectators who remained at home, whether supporters or opponents of the conflict, who continue to be most violent in their attitudes and untouched in their deepest selves. Man without God is less than man.
In meeting God, a man is shown his failures and his lack of integrity, but he is also given strength to turn more and more of his life and actions into love and compassion for other men like himself. It is necessary to the continuance of life on this planet that more and more people make this discovery. We have been the choice. Man possesses the power to obliterate himself, sacrificing the whole race on the altar of some God-substitute, Or he can choose life in partnership with God the Father of all.
I believe that there is evidence that more and more people are waking up to the realization that this crucial decision peers us in the face here and now. Cathedrals and churches are always places into which we bring human experiences – birth, marriage, death, our flickering communion with God, our fragile relationships with each other, so that they may be deepened and directed by the spirit of Christ. Today we bring our mixture of thanksgiving, sorrows and aspirations for a better ordering of this world. Pray God that he may purify, enlarge and redirect these in the ways of his kingdom of love and peace. Amen.