فایل صونی موجود نیست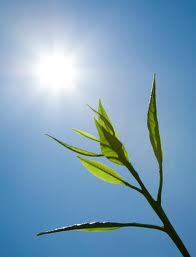 Did you know that plants can "eat" light? Green plants obtain their energy directly from the sun, by converting light energy into chemical energy. This process is called photosynthesis. Photosynthesis provides life not only to plants, but also to the animals (including people) that eat those plants. In addition, photosynthesis gives us the oxygen that we need to breathe. Scientists have gained detailed knowledge of the complex process of photosynthesis, which will be summarized only briefly here. The basic chemical reaction of photosynthesis involves the conversion of water, carbon dioxide, and light energy into glucose and oxygen.
Glucose is a form of carbohydrate that allows the storage of energy. It takes six molecules of carbon dioxide and twelve molecules of water to produce one molecule of glucose, with six molecules of water and six molecules of oxygen as by-products. How do plants obtain the water, carbon dioxide, and light energy that they need for photosynthesis to occur -Water is obtained through the roots of the plant, and is transported upwards through the stem or trunk of the plant to the leaves. The leaves can directly absorb carbon dioxide from the air. The leaves also contain a green-colored chemical, which is a pigment named chlorophyll. Chlorophyll has the special ability to absorb light energy from the sun, and convert that energy into chemical form.
The process of photosynthesis involves several steps. In the first stages, light energy is absorbed by chlorophyll. Some of this energy is used to decompose water molecules into hydrogen and oxygen. The hydrogen is used in the next steps of photosynthesis, and the oxygen is released into the air as a by-product. The remaining energy that is gained from sunlight is stored in chemical compounds that are also used in the next stages of photosynthesis. In those later stages, the hydrogen from the earlier stages is used, along with carbon and oxygen from carbon dioxide molecules, to create increasingly more complex molecules. This process uses the stored energy from the earlier stages of photosynthesis. Because this energy has already been obtained from sunlight, these later stages of photosynthesis do not require any additional light. The later stages of photosynthesis eventually produce glucose, which is a complex carbohydrate molecule.
Glucose allows energy to be stored in a stable form that can be used by the plant. Glucose molecules can be sent throughout the plant, to provide the energy that is needed for the plant to live, grow, and reproduce. If the plant is eaten by an animal, then the animal can use this energy for its own life processes. The process by which plants convert light into food is surely one of the miracles of nature. Photosynthesis is a fascinating and complex process, and it provides us with the food we eat and the air we breathe.